At Jim Roberts Locksmiths, you'll find locks that are SMART
Keyless locks offer many benefits to your business or facility when compared to traditional locks.  Depending on what your business or facility requires, a keyless access system can give you:
Identification – know exactly who opened the door
Authentication – control over who is allowed to open a specific door
Confidentiality – protect sensitive areas and data from unauthorised access
Integrity – the strength to lockdown or open all doors at once to protect the people inside.
Availability – control when access is allowed to a specific door
Accountability – record who accessed what area, and when.
In other words, you can customise and control who can have access and when. From large scale access control systems for schools and facilities to a digital deadbolt on your front door, Jim Roberts Locksmiths can help.
We can advise, install and service the right system for your needs, budget, and the demands of our unique environment in North Queensland. For more information, call our team of professionals at Jim Roberts Locksmiths.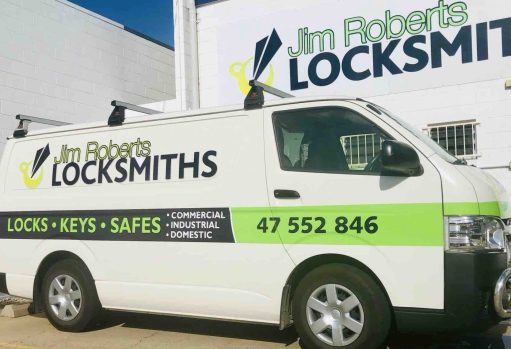 Need some help or more information?
Electronic Access Control Services
All Electronic Access Control Systems need support and regular maintenance for optimal efficiency. For instance, there may be software upgrades, battery changes, new fobs required, or training required for new staff. Don't stress! Jim Roberts Locksmiths provide a variety of services to suit the unique needs of both your business and your access control system.
Our team at Jim Roberts Locksmiths can:
supply and install single and multiple door access control systems including push to exit buttons and emergency lock-down buttons.
supply and install external pin pad, swipe card/ FOB access systems custom to the needs of your business or facility.
repair, service, and maintain your access control system. We can also upgrade different systems to the latest hardware/ software for the relevant system.
supply and install hard-wired access control systems and maintain the communication to your network.
supply and install Wireless Access Control systems installing the required WAP system and commissioning to your network.
provide you and your staff with onsite training and tech support as needed.
can provide maintenance agreements for the upkeep of the batteries and general hardware maintenance annually/ monthly.
Residential Keyless Lock Services
For our residential clients, Jim Roberts Locksmiths supply & install keyless digital locks. We also help with any combination changes and fresh batteries as required.