TOWNSVILLE LOCKSMITH SERVICE | 24hr EMERGENCY SUPPORT
Based in Townsville and with over 35 years of local experience, Jim Roberts Locksmith is your one-stop-shop for everything locks, keys, & safes.
At Jim Robert Locksmiths, you'll find a centrally located workshop & showroom, as well as a mobile service team for your home or business. In other words, we can provide professional locksmith support wherever you need it!
Even on weekend & public holidays, you'll find the Jim Roberts Locksmiths 24/7 emergency service just a phone call away. From commercial to domestic locksmithing issues, our team handles all cases with care and attention to detail.
JIM ROBERTS LOCKSMITHS MOBILE SERVICE
Townsville's 24/7 Emergency Locksmith Service
Life is what happens while you're making other plans, right? For those moments when the key won't turn in the lock, or just disappears altogether, call Jim Roberts Locksmiths. Our fully stocked mobile service vans are ready to help you with any locksmithing situation with your home or business.
JIM ROBERTS LOCKSMITHS WORKSHOP & SHOWROOM
67 Pilkington St, Garbutt, Townsville. Mon – Fri 8am – 5pm
With handy onsite parking, you'll find our Locksmith Workshop & Showroom centrally located between two of Townsville's main roads. When you need a key cut, a new battery for your remote, or some advice on a new safe, you'll find a professional locksmith here to help!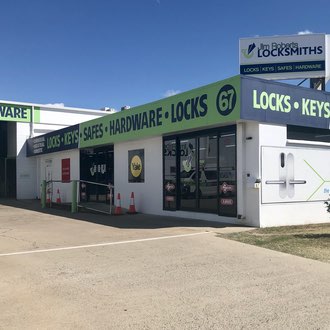 REQUEST A QUOTE OR INFORMATION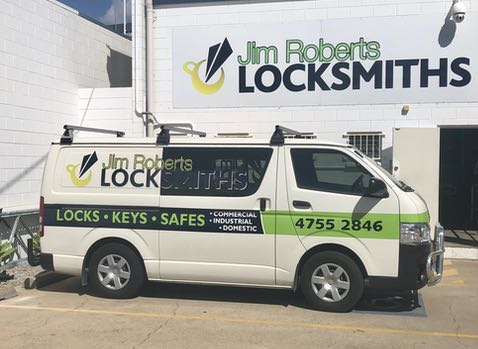 Jim Roberts Locksmiths Townsville
| LOCKS KEYS SAFES | COMMERCIAL INDUSTRIAL DOMESTIC | 
TOWNSVILLE LOCKSMITH 24hr EMERGENCY SUPPORT
24/7 Emergency Lockout Service – Locked out of your home or car in Townsville? Lost your keys? Unauthorised access to your home or business? We can open your house or car door, repair or replace damaged locks and cut new keys.
Vehicle Locksmith – Vehicle openings. Car Key Repairs & Replacements. Duplicate Car Keys. Ignition Issues
Commercial Locksmith Services – 24/7 Locksmith backup repair/ replace Locks. Master Key Systems. Electronic Access. Door Morticing. Sundry/ Architectural Hardware Supply & Install.
Industrial Locksmith Service – We offer many industry-specific locksmithing services. You'll commonly find us working at Military & Government Departments & Hospitals. Our team also services Schools, Real Estate Agencies, & Aged Care Facilities.
Safes – We supply, install, service and remove safes all over North & Western Queensland. From a battery change, a combination change, to a change over from dial to a key-pad, see our experienced team for the best service and advice.
Domestic Locksmith Service – 24/7 Emergency Service, securing the premises after a break-in, changing the locks, changing the locks so they all work with the one key, adjusting strikes on your doors & servicing locks on doors, screen doors, sliding glass doors, roller doors and garages. Deadbolt installation our specialty!
Leading Local Supplier of Sundry/Architectural Hardware & Seals for Commercial Projects. For your project or renovation, you'll find us the best place to come for commercial washroom hardware, braille signage, door closers, hinges and so much more.