TOWNSVILLE LOCKSMITH SERVICE | 24hr EMERGENCY SUPPORT
Established in 2006, Jim Roberts Locksmiths has become a leading Townsville locksmith company offering a complete range of locksmith services and solutions for our automotive, commercial and domestic clients.
Our 24 hour Emergency Locksmith Service is available 7 days a week, including weekends and public holidays.  When you need us, we're a phone call away!  Our goal is to provide professional, efficient and reliable locksmith services.  From your business to your home and car, we handle every situation with your locks, keys & safes, with care.
Jim Roberts Locksmiths offers a comprehensive range of locksmith services to suit the needs of your business & building with the credentials, knowledge, and experience to minimise risk to your business and business assets.
Based in Townsville, Jim Roberts Locksmiths offers a comprehensive range of services to help keep your home and valuables safe & secure.
From cutting and programming new keys to fixing a sticky ignition barrel, Jim Roberts Locksmiths provides a range of services to get you (and your vehicle) moving again.
24/7 EMERGENCY LOCKSMITH
Jim Roberts Locksmiths offers our Townsville clientele a 24/7 emergency locksmith service.  From house & car openings, to changing the locks after a break-in, we're only a phone call away.
Based in Townsville, Jim Roberts Locksmiths is a local, licensed and accredited locksmith company. Our team provide the highest industry standards when taking care of your business, home or car. We specialise in the install and repair of commercial and domestic hardware including deadbolts, restricted key systems, mortice locks, door closers and fire exit furniture.  We also supply and install safes, electronic access systems, window locks, and so much more.
In our workshop, you'll find safes, door and sundry hardware as well as our locksmiths cutting, programming and repairing automotive keys. Our friendly technicians will be happy to help you find the best solution for your security needs and budget.
WORKSHOP – 67 Pilkington St, Garbutt | Mon to Fri 8am – 5pm 
REQUEST A QUOTE OR INFORMATION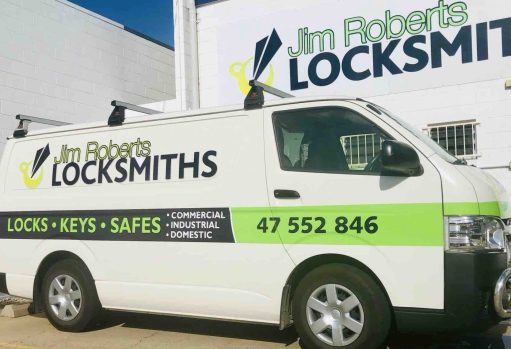 TOWNSVILLE LOCKSMITH SERVICE | 24hr EMERGENCY SUPPORT
24/7 Emergency Lockout Service – Locked out of your home or car? Lost your keys? Unauthorised access to your home or business? We can open your house or car door, repair or replace damaged locks and cut new keys.
Vehicle Locksmith – Vehicle openings, Car Key Repairs & Replacements, Duplicate Car Keys, Ignition Issues
Commercial Locksmith Services – 24/7 Locksmith backup, repair/ replace locks, Master Key Systems, Electronic Access, Door Morticing, Sundry/ Architectural Hardware Supply & Install.
Industrial Locksmith Service – We offer many industry-specific locksmithing services – including Military & Government Departments.
Safes – We supply, install, service and remove safes all over North & Western Queensland.
Leading Local Supplier of Sundry/Architectural Hardware & Seals for Commercial Projects