Examples of T & L Handles…
Mini T-handle
Rear fix
8mm square drive
75mm spindle length
Operating by unlocking and rotating the handle clockwise 90 degrees
Master keyed and keyed to differ
Zinc alloy diecast handle and rose
Finished in chrome plate
Carbine L Handle C4 Rear Fix
Heavy-duty construction for maximum security
Easy to adjust 
Can suit either 90° turn clockwise, 90° anti-clockwise turn and 180° clockwise or anti-clockwise turning
All are rear fixed to minimize tampering of the lock
Supplied with screws for solid and sheet steel doors
Standard 75mm spindle length
High corrosion resistance
Carbine T Handle C4 Rear Fix
Heavy-duty construction for maximum security
Easy to adjust 
Can suit either 90° turn clockwise, 90° anti-clockwise turn and 180° clockwise or anti-clockwise turning
All are rear fixed to minimize tampering of the lock
Supplied with screws for solid and sheet steel doors
Standard 75mm spindle length
High corrosion resistance
Standard 75mm spindle length

Rear fix

Turns 90 degrees to unlock

Fixing bolts need to be ordered separately

Chrome plate finish

60000 key series

Keyed to differ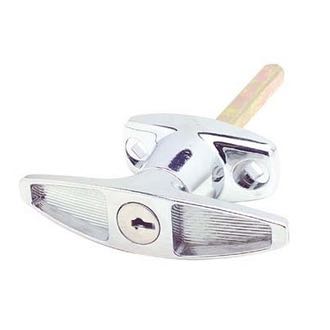 Standard 75mm spindle length

Rear fix

Turns 90 degrees to unlock

Fixing bolts need to be ordered separately

Chrome plate finish

60000 key series

Keyed to differ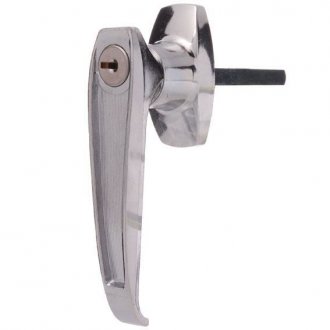 Ideal for use on standard doors, gates and sheds.
8.0 mm square drive.
75 mm spindle length.
Operated by unlocking then rotating the handle.
180 degree rotation of the handle to unlock.
Zinc alloy diecast handle and rose.
Non master keyed.
Finished in bright chrome.
Supplied keyed to differ.
Keyed alike version also available.
Lockable lever handle.
Ideal for use on standard doors, gates and sheds.
8.0mm square drive
75mm spindle length
Operated by unlocking then rotating the handle
180-degree rotation of the handle to unlock
Zinc alloy diecast handle and rose
Non master keyed
Finished in bright chrome
Supplied keyed to differ
T Handle Nut & Bolt Fixing
REQUEST A QUOTE OR INFORMATION