Examples of our timber cabinet locks for homes and businesses…
Carbine Lock Bolt or Latch – CCL-1CP
One lock to suit all applications for cupboard and drawer locking.

Completely modular with changeable function (from latch to bolt and vice versa) and four possible locking directions. 

Heavy-duty construction
High corrosion resistance
Easy to remove the cylinder by undoing three screws
Will retrofit most common brands
30mm lock housing projection, 12mm lock case
Uses a standard 530 cylinder
Can be purchased in keyed to differ or keyed alike
Supplied with a 6 pin C4 keyway, use Keyline LKW9 (Silca LW5) key and offers keying advantages re-keying to other locks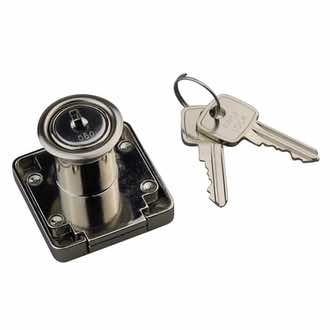 Standard Cupboard/ Drawer Lock – Keyed Differently
Square back for fixing to a timber drawer with a square bolt throw projection
Measures 40mm x 40mm
Cylinder is not located in the centre of the lock, it is slightly lower on the case making it compatible with numerous other brands on the market.
All cupboard/drawer locks are supplied with bezel 20mm cylinder projection with 19mm diameter Standard bolt projection is 10.2mm vertical
Suits Keyline LF16 (Silca LF6R) keyway
Barrel included (not pictured)
Keyed to differ 
Chrome plate finish
Standard Cupboard/ Drawer Push Lock – Keyed Differently
Sliding door push lock
Keyed Differently
Ideal for desk and cupboard sliding doors
Barrel diameter 22mm
Projection unlocked 34.8mm
Projection locked 23.5mm
Optional extension piece-8mm dia.x 6mm long
Master keyed
Finished in Bright Chrome
REQUEST A QUOTE OR INFORMATION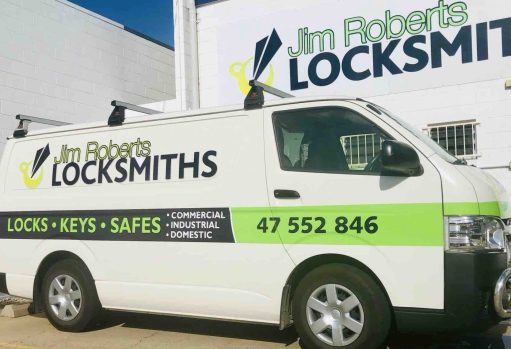 Save time and money & come to the one-stop safe shop in Townsville, Jim Roberts Locksmiths.
Safe Installation and Removal Services in Townsville
When it comes to removing and installing safes, the experienced professionals at Jim Roberts Locksmiths are the people to trust.  After all, they remove and install safes as per legislation for industries such as banking, military and government.
Safe Opening, Battery Changes & Change Combination Services
Call Jim Roberts Locksmiths, your 24/7 safe locksmith in Townsville. If you have a safe you need opening, repaired, or serviced – if you need a combination changed or safe keys cut –  we have trained and experienced professionals for the job.